Acoustic Monitoring for Airport Noise
Acoustic Engineering Consultants at Airports
Acoustic Consultants need accurate data on aircraft movements, split into 'Day' and 'Night' as defined by the Airport's consents, so they can prepare Level Day Night (LDN) assessments of the noise profile at an Airport, and how it is changing over time. The
Aimm
Aircraft Monotoring system has reports specifically designed to assist Acoustic Consultants, by reporting aircraft movements by 'Acoustic Day' which normally starts at 07:00 and 'Acoustic Night' at 22:00... but these times can be set to suit the needs of the specific airport, and an 'Evening' movement count is also available if required.

Aircraft movement counts for Acoustic LDN reporting
Noise from Approaching, Departing and Transitting Aircraft.
In addition to the movement counts of movements actually AT the airport counted by Acoustic Day/Night, Aimm also
reports
activity in the airspace AROUND the airport, broken down into 'Near' and 'Far' aircraft activity:
'Near'
. Are usually directly concerned with the airports operations, approaching for landing or departing after takeoff, and when appliccable training aircraft doing touch-and-go movements.
'Far'.
Are far enough away to NOT be directly involved in the aircraft, and may have no connection with the airport at all, just overflying en-route to another airport. However, they are close enough that the airport's neighbours are likely to attribute their noise to the airport. Because Aimm provides three data reports... (1) Actual Movements, (2) Near Airspace activity and (3) Far Airspace activity... it quickly becomes apparent to an Acoustic Engineer whether particular complaints are caused by the Airport, or not. It is not unusual for complaints of aircraft activity at night to be due to aircraft that are using the airspace but not the Client airport.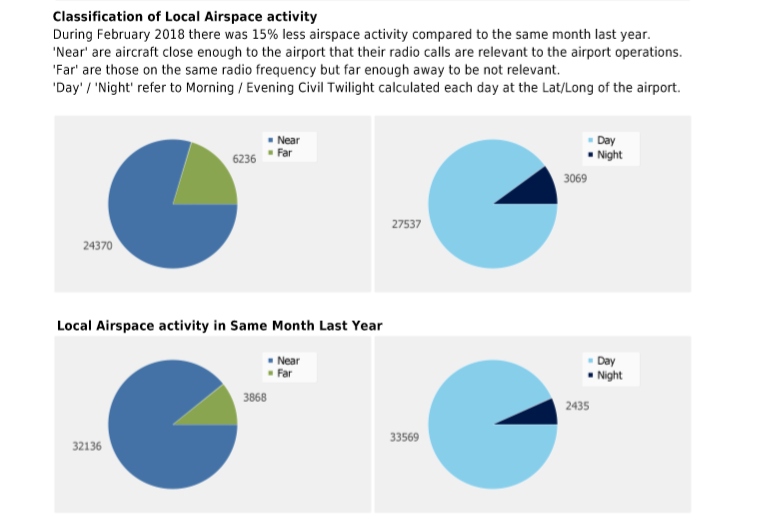 Fragment of the Dashboard showing that there was less airspace activity overall,
but more at night, after Evening Civil Twilight (ECT). An Acoustic Consultant can use
these figures, and the LDN counts starting at 7:00 and 22:00 to advise on the noise profile.
Investigating Specific Noise Events at the Airport.
Approved staff at Aimm Client airports can listen to aircraft radio calls (either 'near' or 'far' or a 'movement') at any time to see who was doing what, when and why. This enables most complaints to be resolved quickly before they escalate. An Acoustic Consultant (if approved by the airport) can also listen to the pilot radio calls, and match those against their noise monitoring equipment, if it is ever necessary to identify a specific noise causing aircraft. The radio calls can be replayed from any internet connected device that can play a '.wav' file... (most can), which allows a complaint to be resolved before it escalates, without the need for a special visit to the airport at weekends.
How does Aimm help with Acoustic Engineering?
Aimm's 'Acoustic' reporting was designed after discussions with Acoustic Engineers, to provide exactly the information they needed, broken down as they specify... we are not Acoustic Consultants ourselves, but we do provide tools to enable an Acoustic Engineer to make confident professional judgements based on complete and accurate data.
What else does Aimm Do for Airports?
It provides a suite of functions to handle an Airport's
Landing Fee Billing
,
Reports
,
Regulatory Compliance
,
Risk Management
, Health and Safety, Incident Investigation,
Complaint Resolution
,
Airport Funding
. and much else... everything to do with Aircraft Movement Monitoring.
How to know if Aimm will meet the Consultant's and Airport's needs?
Talk to the Aimm Senior Management. Having discussed Aircraft Noise and Airport Complains with many Airport Managers and Acoustic Consulting Engineers, the Aimm team do understand the challenges and opportities. If Aimm can provide better assistance than you are currently getting, try it and see. Aimm does not require fixed term contract, and systems are available for short-term installation if needed to handle a specific requirement... once they have seen what Aimm does, very few Airports want to let it go.
To discuss further, and get a quote for you Airport, Contact us
More information about Aimm
Airside Personnel Tracker
Airside Personnel Tracker
, Who is Airside? Where did they go? When?
Landing Fees
Landing Fees
, Cost Effective Billing of Fees
ADSB and Reports
ADSB, Reports, Statistics
and full Data for effective management and reporting
Regulatory
Regulatory Compliance
including CASA (Australia) and CAA (NZ) Part 139 Reporting
Risk Management
Risk Management
, Health and Safety, Incident Investigation
Complaint Resolution
Complaint Resolution
and Noise Management
Funding
Funding for Airports
, Revenue generation, Grant Applications, Airport Master Plans.
Consultancy
Advice, Consultancy
, and 'Virtual Manager' Service for Small to Medium Airports.
Acoustic Data
Acoustic Consultants' Data
... To assist Acoustic Engineers by providing the data they need.
Brief Details of Aimm
Brief details of Aimm
... How it works, What it costs.
Airport Manager Newsletters
Newsletters for Airport Managers
... Tips and discussions from other Airport Managers