Aimm Brief Details
What is Aimm Movement Monitoring?
An Airport monitoring system that produces the information necessary for:
-- Landing Fees: Whether bulk billed for unlimited landings, or individually billed, airports need to be paid for the use of their facilities.
-- Compliance: Owners of airports have obligations to monitor traffic for reporting, and Health-and-Safety.
-- Risk and Incidents: Owners have obligations to pro-actively manage risk, and in event of an incident need be able to show they have been doing so.
-- Complaints: Most airports get complaints about noise and low flying. To handle these it is necessary to know what actually happened.
-- Management: Airport managers/supervisors need to know who is doing what and when to be able to manage/supervise effectively.
Aimm is like a 'Cockpit Voice Recorder' for airports and airfields, providing proveable details of what happened so that an incident can be resolved quickly and lessons learned to prevent a recurrance. In the developing Health-and-Safety environment this it needed to protect the Airport and its Supervisors from being held accountable for incidents they did not cause.
How It Works:
Aimm supplies a self contained recording unit to be plugged into the power, broadband and Camera(s) / Airband / ADSB aerials, as required to suit the situation. These are installed at the airport, or very close by and record the data. Movements by ADSB equippped aircraft are automatically entered by Aimm within a few seconds of the aircraft shutting down at the gate. Non-adsb aircraft have their movements entered by Aimm's transcription operators (or the Airport's own staff) transcribing the voice radio calls. Cameras are used where appropriate. Reports are prepared and emailed to the client Airport each month, usually within seven days of the end of each month. Click above for a Demonstration of Aimm radio call transcription in use.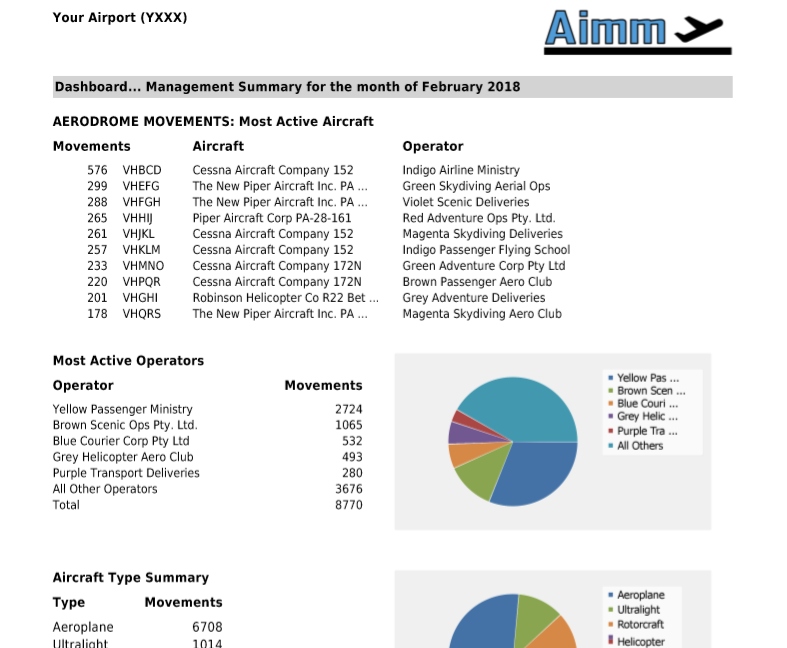 Part of the monthly 'Dashboard' management report, showing the most active aircraft and operators
at the Airport. The first month's report for a new Client Airport often contains some surprises.

Cost:
There are three Aimm versions, to suit different types of Airfield or Airport...
(1) AIMM-LITE is designed for smaller airfields/airports that do NOT charge landing fees individually, but work off yearly bulk fees. They still need need good quality data when setting the bulk fees, and to be able to handle compliance, complaints, management, and to have the ability to retrospectively listen to any radio call in event of an incident.
Once set up, the only Aimm-Lite costs are a low fixed subscription each month, which covers all ongoing cost... continuity monitoring, a maintained lease of the on-site recording unit, all software, the monthly reports, and regulatory reports at the required intervals. Voice calls are not routinely transcribed so there is no transcription cost. A lot of work has gone into automating Aimm-Lite to get the cost as low as possible, to bring the benefits of a modern Movement Monitoring System within the reach of any financially viable aerodrome, even if small.
(2) AIMM-PLUS is designed for Airports that DO charge
Landing Fees
, and can handle towered or non-towered, Recreational, Flight training and Regular Passenger Transport (RPT) operations, and a wide mix of landing fees for various aircraft types with exemptions for local operators who have special arrangements. It has the features of Aimm-Lite above, plus the landing fee functions and fully detailed spreadsheets.
Once set up, the costs depend on volume of movements, the number able to be handled automatically by ADSB, the number remaining for Voice Call transcription, and whether Aimm or the Airport staff do the transcription..
(3) AIMM-REGIONAL is designed for Regional Airports, and those with substantial
Landing Fees
. It has the features of Aimm-Plus (above), and provides a high level of redundancy with Dual Units that are installed in separate buildings, preferably on separate power supply phases.
To get a quote for your Airport and situation,
Contact us
What's different about Aimm from other Methods and Systems?
Aimm is designed to assist the Airport Management in many aspects of their task... not just collection of Landing Fees, though that is important.
RISK MANAGEMENT. Most older aircraft monitoring systems were designed for Landing Fee collection, with that as their only function. Aimm collects data for landing fee billing too (and very efficiently), and also puts an equal emphasis on
Risk Management
in the evolving Health & Safety environment, so that the Airport Land Owner can show that they are fulfilling those obligations.
LOCAL EMPLOYMENT. By making full use of the power available in 'Cloud' computing, Aimm enables the computer itself to do much of the work, considerably reducing the human work required. The Cloud also makes it possible for the Airport's own staff to do the radio call transcription if they wish, (either from the airport or from home with full timesheet control), generating employment locally rather than sending it interstate. Aimm staff are available to fill in for a local operator at short notice in event of sickness or holidays.
KNOWN COSTS. There are no hidden fees and the costs will be quoted up-front, typically around half the cost of other methods... this is possible because of Aimm's computer analysis doing much of the work, the use of ADSB, and by making full use of the Airport's existing billing system to eliminate duplication of those facilities. Aimm-Plus produces a file of invoices in whatever format is required by the Airport's existing billing system, for easy billing.
Most Airports already have efficient billing systems, so there is no point in paying someone else to do the task when Aimm is able to feed straight into an existing system.
ALL TYPES of MOVEMENT. All monitoring methods will log Landings, but most older systems do not log Takeoff and Touch-and-Go movements. Aimm records ALL types of movement, so the Airport Management can show that they are considering all aircraft activity to ensure the 'Health and Safety' of their staff, contractors, pilots and the public. This is also able to detect that a a landing was missed, and Aimm will insert a landing if it can deduce from the takeoffs that a landing must have occurred but has not been detected. This one function adds significant revenue for some airports.
IMPARTIAL ADVICE. Aimm can be paid for its services by either a percentage of landing fees billed, or a fixed monthly subscription for those with a large number of yearly bulk charge aircraft. So it's staff have no hesitation in recommending that an airport use yearly bulk billing rather than charging for each landing, if that would be more efficient. Aimm has many clients who collect individual
Landing Fees
... and many who work of Bulk Yearly Fees only but still need the Risk Management and Compliance functions, and need the automated reports to set the bulk yearly fees. Being neither for nor against individual landing fees, Aimm is free to recommend the income generation and
Funding
methods that best suit each of its clients.
WE are AIRPORT OPERATORS OURSELVES. The Aimm team developed Aimm for their own Airport, and it was taken up by other Airfields and Airports. ; Clients often comment that this 'Airport centric' approach shows in the easy operation of our systems. We don't need to be persuaded to make changes as the 'Health and Safety' or Air Traffic environment evolves... we live in your world and often make the changes our clients need, at no-charge, before anyone asks. We need them too!
Operating an Air
port
requires a different set of skills than operating an Aero Club or Air
craft
, and not all people charged with overseeing an Airfield / Airport have an Airport management background. Our senior staff are readily available to Clients for discussion of challenges and opportunites, which can take the form of a short discussion at no charge, or a full consultancy with written reports at normal industry rates. Sometimes just being able to bounce ideas off someone else makes the solution obvious.
INCIDENTS. At many airfields, a Flying School or Local Aircraft Operator does a good job of the day-to-day management but, in the event of an incident you (as land owner) do need to be able to show that you are aware of the changing patterns of air traffic and have reviewed these to confirm that the facility is being appropriately managed.
REGULATORY / COMPLIANCE / PLANNING APPROVAL. Aerodromes are bound by a different set of
regulations
, than are other facilities. They are exempt from some normal regulations and are required to comply with specific Aviation regulations for operations, noise, planning, building and many other situations.
If the airfield / airport's operating consent has movement or time limits, and if the activity level is challenged, the reports can provide evidence that it is operating as entitled.
These requirements cannot be met without full records of every movement... just the 'landing' revenue records on their own are insufficient.
NOISE COMPLAINTS. Most airfields / airports occasional need to be able to show which aircraft did what, when and why (or that an offending aircraft was NOT associated with them), so that noise or low-flying
complaints
can be answered quickly. Usually this can be handled by the airport itself listening to the radio calls for a few minutes around the particular time.
All Aimm systems (including Aimm-Lite), make it easy for the airport operator to listen to any radio call and view the ADSB positions, for any time period from the last few minutes back for three years, from any Internet capable device that can play a 'wav' file and receive an email (most can). Complaints are best handled quickly before the complainant escalates it to other parties. This ability to listen to calls remotely, is a major benefit for Operations Managers at Airports as it avoids the need for a quick visit to the airport after hours or at weekends. Aimm management can certify correctness of radio calls and transcribe them in a legally defendable way if the situation requires this.
SEARCH and RESCUE. All Aimm systems (inc Aimm-Lite), let the Airport operator assist Search and Rescue when necessary, by lremotely listening to radio calls and viewing the ADSB positions up to the last few minutes. This Voice and ADSB data is for ALL aircraft within reception range, including those transitting.
MANAGEMENT. Management Boards / Supervisors need to have the whole picture of movements available in order to be able to set the Individual Landing fees, and Bulk yearly Fees, at an appropriate level. To manage any business effectively, it is necessary to have good information on who is doing what, and how often. When an Airport puts in Aimm and gets the first month's reports, they often discover regular users of the airport that they were not aware existed.
TIMELY REPORTING.
Management and Billing Reports
are emailed within one week of the end of each month to any number of recipients showing graphs and collated summaries of activity. This enables invoices to be sent out while the visit to the airport is still fresh in the pilots mind (which reduces queries) and the Management reports mean that a monthly Board / Supervisor meeting has up-to-date information on which to make informed decisions.




Information for Reporting and Compliance is provided monthly, and (not shown) specific information required for Civil Aviation Authory reporting every three months with links for on-line fileing to remain in compliance.
Local Body and Central Govt managed airports operate under many constraints, and Aimm has been specifically designed to meet their needs with no hassle for the Officer-in-Charge.
--- Liability. Councils as Land Owners of an Aerodrome tend to be the 'last one standing' after an incident that leads to litigation. It is important that Airports / Airfields on Council owned land have good written reports that can withstand challenge from any aggrieved parties.
--- Complaints. Complainants are often ratepayers, and so a high standard of complaint resolution is demanded... which necessarily requires that the investigating officer is able to quickly access records (and if necessary voice calls and ADSB positions, to back those up). Aimm provides these.
--- Cost recovery. To a greater extent than private or company owned Airports, Council owned airports have multiple policy objectives that can't just be measured by income. They are an essential public amenity, part of the civil defence network, and required to be available for emergency services.
The Airport may be required to be cost-neutral .... or the Council may be willing to subsidise its operations as part of the amenities of the district .... or the Airport may be required to generate a surplus. Whatever the objectives the OiC is required to satisfy, they need to be able to show that they are doing so... Aimm's
provide clear written evidence that the facilities are being operated in accordance with the policy instructions given to the OiC.
... To assist Acoustic Engineers by providing the data they need.
... How it works, What it costs.
... Tips and discussions from other Airport Managers