Airport Funding - Grant Applications - Master Plans
What is 'Aimm'?
A complete Movement Monitoring, Billing and Reporting system that detects more than 99% of movements 24 / 7 / 365, and reports essential data needed for:
-- Funding of Airport maintenance and improvements
-- Investor information
-- Revenue projections
-- Cash Flow estimates
-- Grant Applications
-- Airport Master Plans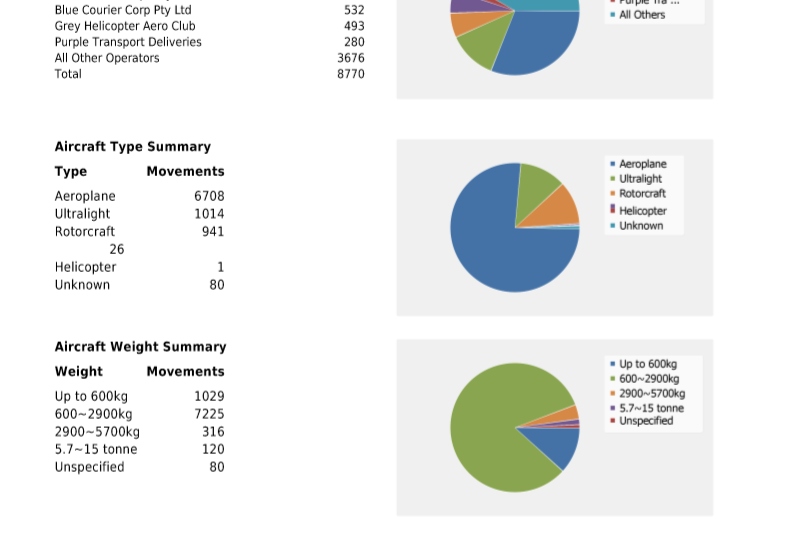 For Master Plans, Funding Applications, and general financial management it is necessary
to know the types and weights of aircraft that use the airport, and how many movements they
make. A change to heavier aircraft, or from fixed wing to helicopter activity, requires
different facilities, and often changes to the Health-and-Safety procedures in order to
maintain a safe environment for the Pilots, Staff and Contractors, and Public.
How is Aimm able to do this?
Aimm identifies for every movement: the time, date, the specific aircraft call sign or flight number, (and in the case of major airlines, the actual aircraft that flew the sector on that occasion), aircraft weight, type of aircraft, aircraft operator with full name and address, type of movement (Takeoff / Landing / TnG), and runway or helipad approach in use. The data highlights are summarised in graphical form for Management in the monthly
Dashboard Reports
, and a very detailed
Billing / Movement Report
in spreadsheet format for further analysis.
INCOME from MOVEMENTS: From the smallest recreational Airfield to the largest international Airport, aerodromes generate a significant part of their income from
Landing Fees
in one form or another. There can be a fee for each landing, or a Yearly Bulk Fee / Subscription arrangement for unimited landings for particular aircraft, or some combination... but one way or another when an aircraft touches down then the aircraft operator needs to pay a share of the costs of maintaining the facilities.
Airport Funding
Whether the Airport is generating its own income, or applying for an ongoing subsidy from a Council, it needs hard facts and figures on its changing levels of usage... which parts of he business are expanding? Which contracting? Which types of activity are running a surplus? Cost neutral? A Deficit?
For an Airport the aircraft movement numbers are the critical 'facts and figures' that show what is happening, so that informed decisions can be made by the Management and Board / Supervisor.
Aimm
provides this information, collated and summarised where helpful and presented in fine detail where that is useful.
From this information, an experienced manager can see what needs to be done to service changing levels of demand, and the Board / Supervisor can consider the long term funding needs, and how those are to be met.
INVESTORS: Those Airports that have (or want) private investment need to show that they are competent Managers with good systems in place to know who is doing that, when and why. Aimm's monthly reports provide this.
Grant Applications
Airports are an essential long term amenity for an area, and many levels of Government (from Local Councils on up), have funding for development of infrastructure. For smaller recreational airfields, sponsorship is often available from local businesses and lottery commissions etc for sporting clubs, like Aero Clubs.
But no one hands out grants based on rough estimates... they need to see hards facts and figures on paper to justify their distribution, so a Grant Application needs to be supported by good written reports showing current levels of activity, to support credible estimates of future levels.
Aimm's reports provide the facts, figures, and graphs that show what is happening now and the changes over time. Some substantial Grants have been obtained by Aimm Client Airports with the supporting documentation that the Aimm system has provided. We do love to hear the words, "We got the grant, many thanks for your help..."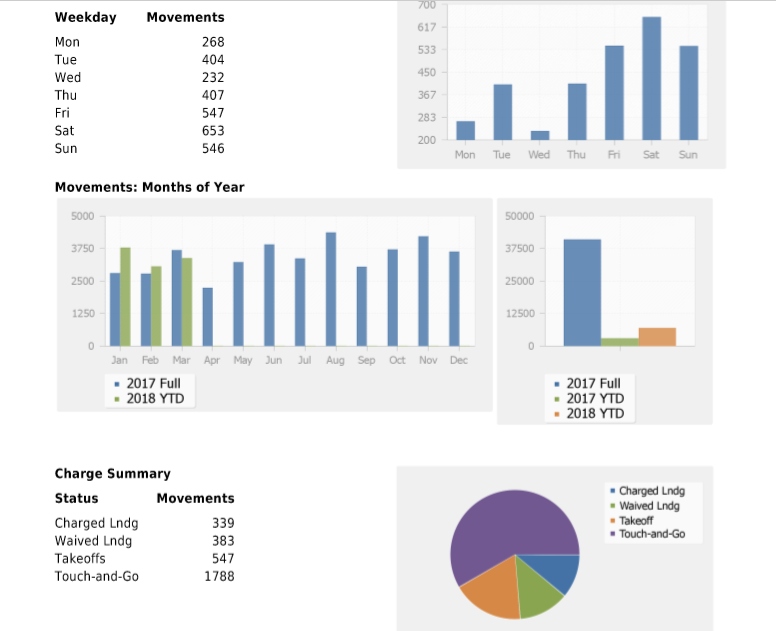 If there are concentrations of movements across a days of the week, or seasons... as in the above case
where the weekends are particularly busy... requests for extra funding to provide more facilities might be
justified even if the average level is not high enough to require that.
This affects Master Plans, Funding and Revenue requirements.
Airport Master Plans
Airports are often required by legislation to have a 'Master Plan'. This necessarily requires evidence of the actual level of activity now, and how it is changing over time. Aimm provides this in a cost-effective manner, with the cost often covered by the extra revenue that it makes possible to collect.
To discuss further, and get a quote for you Airport, Contact us
More information about Aimm
Landing Fees, Cost Effective Billing and Collection
Reports, Statistics and full Data for effective management and reporting
Regulatory Compliance, including CASA (Australia) and CAA (NZ) Part 139 Reporting
Risk Management, Health and Safety, Incident Investigation
Complaint Resolution and Noise Management
Airport Funding, Grant Applications and Airport Master Plans.
Aimm Brief Details... How it works, What it costs.

Go to
Home Page