Airport Funding - Revenue Generation - Grant Applications - Master Plans
What is 'Aimm'?
A complete Movement Monitoring, Billing and Reporting system that detects more than 99% of movements 24 / 7 / 365, and reports the data needed for:
-- Funding of Airport maintenance and improvements
-- Investor information
-- Revenue projections
-- Cash Flow estimates
-- Grant Applications
-- Airport Master Plans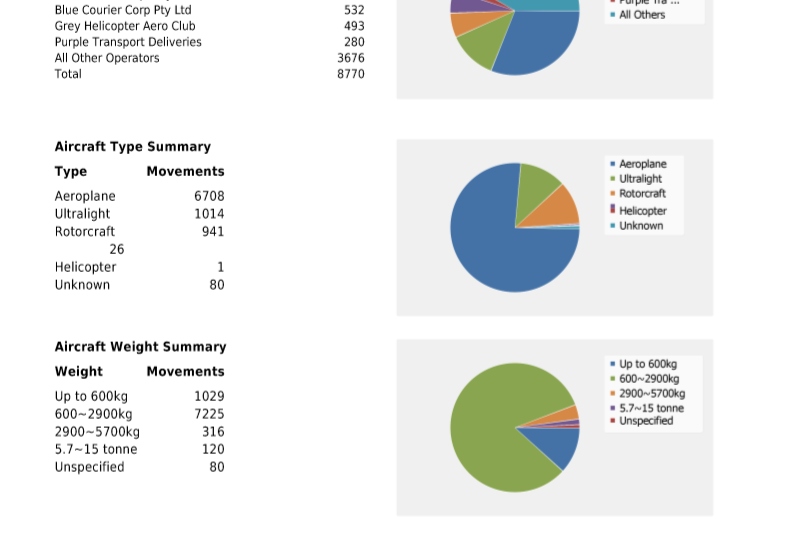 For Master Plans, Funding Applications, and general financial management it is necessary
to know the types and weights of aircraft that use the airport, and how many movements they
make. A change to heavier aircraft, or from fixed wing to helicopter activity, requires
different facilities, and often changes to the Health-and-Safety procedures in order to
maintain a safe environment for the Pilots, Staff and Contractors, and Public.
How is Aimm able to do this?
Aimm identifies for every movement (Takeoff, Landing and Touch-and-Go): the time, date, the specific aircraft call sign or flight number, (and if ADSB equipped, the actual aircraft that flew the sector on that occasion), aircraft weight, type of aircraft, aircraft operator with full name and address, type of movement (Takeoff / Landing / TnG), and runway or helipad approach in use. The data highlights are summarised in graphical form for Management in the monthly
Dashboard Reports
, and a very detailed
Billing / Movement Report
in spreadsheet format for further analysis.
INCOME from MOVEMENTS: From the smallest recreational Airfield to the largest international Airport, aerodromes generate a significant part of their income from
Landing Fees
in one form or another. There can be a fee for each landing, or a Yearly Bulk Fee / Subscription arrangement for unlimited landings for particular aircraft, or some combination... but one way or another when an aircraft touches down then the aircraft operator needs to pay a share of the costs of maintaining the facilities.
Revenue generation
There is no 'right' or 'wrong' landing fee rate, its up to each Airport to set its own fees after considering its facilities, its expenses, and what it wants to achieve.
Aimm sees statistics from a large number of Airports, and some general observations have emerged:


Fee Basis: Specify Landing Fees by Aircraft Type, by Weight Band, by Base fee plus Fees in Weight Bands, etc?
Aimm can handle very complex fee structures with no problems for itself. But complex fees were usually set for historical reasons that are long forgotten, and they confuse pilots leading to billing queries... e.g. a helicopter pilot knows that their fee is $10 and tells a fixed wing pilot who then gets charged $15 and contacts the airport to ask why, which is unproductive for everyone. "Simple is easy." When an Airport reviews its fee structure a common simplification is to change to "$xx / Tonne", calculated to the Kg, across ALL aircraft types. Often with a fixed minimum to cover fixed overheads on very small aircraft. This is easy understood by pilots and automatically adjusts the fee for the size of aircraft... usage of facilities. Property maintenance, car parking, use of toilets, the neighbours noise tolerance, administration, Health and Safety etc, all tend to be related to the size of the aircraft. In pre-computer days fees were often in weight bands due to the difficulty of calculating the fee to the exact Kg for each aircraft, but that is no problem for a computer, and fee to the Kg makes it quicker to match up payments to the invoice (and identify the right invoice when the payee does not quote a reference), as most invoices will be for slightly different amounts.
When considering changing the fee basis, it is important to discuss with major operators first. They will be supportive if they understand that a change to the fee calculation doesn't have to change the overall fees, and can be cost neutral, increase or decrease fees, depending on what $/tonne you set. Its also possible to set special rates for particular aircraft, or an operators whole fleet.
Yearly bulk fees: These work well for recreational flyers, but not commercial operators or flying schools. Over time commercial operators change in size. If they grow, a fixed yearly bulk fee can leave the airport unable to improve the facilities to meet the increasing service level required, and if they shrink a fixed fee becomes burdensome.
When a new Aimm Client Airport gets its first monthly reports, it's common to find that their flying schools are paying an inappropriate fee for each training session, the school having grown or shrunk but the fixed bulk fee remained the same. Fees per training session are easy to set up in Aimm, and can be at a non-standard rate, either higher or lower than the casual landing fee. Because computerisation makes fee-per-landing easy to bill, Yearly Bulk Fees are now used less than previously for commercial operators and it is increasingly common for busy airports to have all aircraft operators, including those based locally, on fee-per-landings rather than Yearly Bulk fees. This matches the payments accurately to usage, and avoids time consuming, (and perhaps adversarial), re-negotiations with their major customers.
Waived fee
s. Airfields / Airports that have Yearly bulk fees DO need to know what level of fees they are waiving. E.g. a mid sized Council Airport that has everyone on yearly bulk fees. If they are forgoing $75,000 / year in fees compared to the standard Fee-per-Landing, this quantifies value delivered, "The Council subsidised its ratepaying aviators by $75k last year", and supports the airport management, "Even though we are only collecting $75k a year, we are running a $150k enterprise and so $60k grant to reseal the carpark is a reasonable request." To allow this type of Management analysis, in addition to the actual fee charged (often $0), Aimm's monthly movements spreadsheet has a column showing the 'list price' for all movements, even if waived.
Self reporting;
Experience at many Airports has shown that aircraft operators self-reporting passenger numbers and fees is satisfactory only if the Airport can confirm the number independently. Otherwise self-reporting numbers become less accurate over time, as various operator administrators interpret what is a 'reportable' passenger and what is not. Much less admin is involved if a special landing fee is set based on the average number of passengers per flight. If passenger numbers do need to be reported for other reasons than generating revenue, they can be provided by the operator, for that purpose only and not their payments to the airport. When changing the payments basis or fees, an effective process is to sit down with the operator and agree a rate per flight, as a % of the casual landing fee or based on average passenger numbers in the aircraft. Commercial operators are required by law to keep passenger manifests showing the number of passengers for each flight, and copies of these for a few months will show both the number of flights, and passengers, so the average passenger loading can be calculated accurately. Eg if there were 300 passengers over 30 flights then there are an average of 10 passengers per flight. If the fee per passenger is $5, then setting a landing fee of $50 will bill the passenger fees as an average landing fee with no need for self reporting. This has proven effective at removing a potential source of friction between the airport operator and their customers. Aimm can handle special fees for specific aircraft.




Aero Clubs:
Clubs often have a long history on the Airport, and a lot of local knowledge. This is a valuable resource, so Airport Management will benefit from having one or two experienced Club members (often past presidents) on the Airport Management and Safety commitees. Both the Club and Management have a strong interest in the quality of the facilities, and maintaining the long term viability of the Airport, so the Club should be closely involved at an early stage in any decisions concerning Landing Fees and other charges.
Airport Funding
Whether the Airport is generating its own income, or applying for an ongoing subsidy from a Council, it needs hard facts and figures on its changing levels of usage... which parts of he business are expanding? Which contracting? Which types of activity are running a surplus? Cost neutral? A Deficit?
For an Airport the aircraft movement numbers are the key 'facts and figures' that show what is happening, so that informed decisions can be made by the Management and Board / Supervisor.
Aimm
provides this information, collated and summarised where helpful and presented in fine detail where that is useful.
From this information, the manager can see what needs to be done to service changing levels of demand, and the Board / Supervisor can consider the long term funding needs, and how those are to be met.
INVESTORS: Those Airports that have (or want) private investment need to show that they are competent managers with good systems in place to know who is doing that, when and why. Aimm's monthly reports provide this.
Grant Applications
Airports are an essential long term amenity for a district, and many levels of Government (from Local Councils on up), have funding for development of infrastructure. For smaller recreational airfields, sponsorship is often available from local businesses and lottery commissions etc for sporting clubs, like Aero Clubs.
But no one hands out grants based on rough estimates... they need to see hards facts and figures on paper to justify their distribution, so a Grant Application needs to be supported by good written reports showing current levels of activity, to support credible estimates of future levels.
Aimm's reports provide the facts, figures, and graphs that show what is happening now and the changes over time. Some substantial Grants have been obtained by Aimm Client Airports with the supporting documentation that the Aimm system has provided. We do love to hear the words, "We got the grant, many thanks for your help..."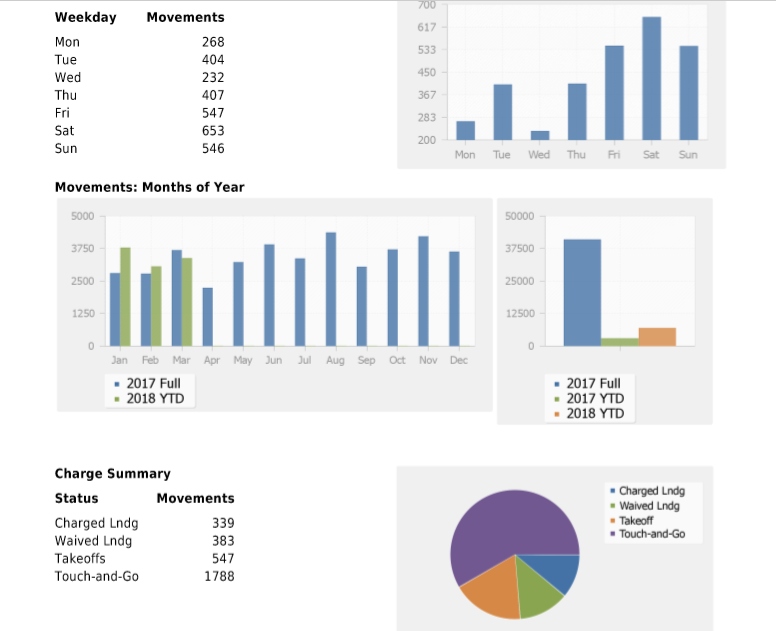 If there are concentrations of movements across a days of the week, or seasons... as in the above case
where the weekends are particularly busy... requests for extra funding to provide more facilities might be
justified even if the average level is not high enough to require that.
This affects Master Plans, Funding and Revenue requirements.
Airport Master Plans
Airports are often required by legislation to have a 'Master Plan'. This necessarily requires evidence of the actual level of activity now, and how it is changing over time. Aimm provides this in a cost-effective manner, with the cost often covered by the extra revenue that it makes possible to collect.
To discuss further, and get a quote for you Airport, Contact us
More information about Aimm
Airside Personnel Tracker
Airside Personnel Tracker
, Who is Airside? Where did they go? When?
Landing Fees
Landing Fees
, Cost Effective Billing of Fees
ADSB and Reports
ADSB, Reports, Statistics
and full Data for effective management and reporting
Regulatory
Regulatory Compliance
including CASA (Australia) and CAA (NZ) Part 139 Reporting
Risk Management
Risk Management
, Health and Safety, Incident Investigation
Complaint Resolution
Complaint Resolution
and Noise Management
Funding
Funding for Airports
, Revenue generation, Grant Applications, Airport Master Plans.
Consultancy
Advice, Consultancy
, and 'Virtual Manager' Service for Small to Medium Airports.
Acoustic Data
Acoustic Consultants' Data
... To assist Acoustic Engineers by providing the data they need.
Brief Details of Aimm
Brief details of Aimm
... How it works, What it costs.
Airport Manager Newsletters
Newsletters for Airport Managers
... Tips and discussions from other Airport Managers