Aimm: 'Frequently Asked Questions'
More detail on the above questions:
What is 'Aimm Movement Monitoring'? A complete Airspace Reporting and Movement Management service for Aerodromes, for Landing Fee Billing, and provide the information needed for effective Risk Management, Compliance, Noise Complaints, and Funding applications.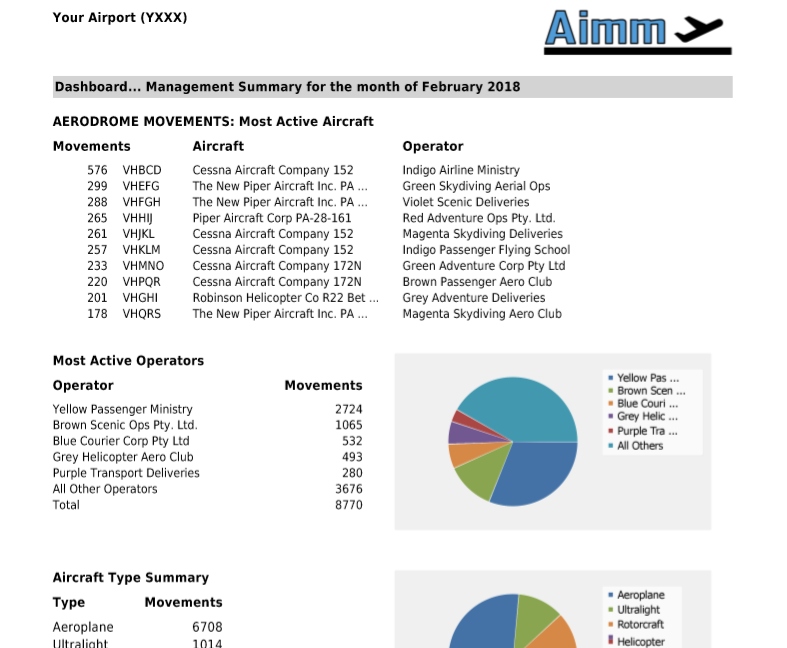 Part of the monthly 'Dashboard' report sent to airport managers, and board members,
within 7 days of the end of each month, to allow provide the information on which to
make fully informed decisions.

Aimm has three Movement Monitoring versions, to suit different types of aerodrome...
1. Aimm-Lite
--- For many smaller airfields / airports 'Aimm-Lite' provides everything they need, at a fixed cost of $295 / month on a maintained lease with standard reports. The recording unit is plugged into the power and internet at the Airport. If a broadband internet connection is not available the system can use the mobile phone system for data transfer. It records all aircraft voice calls 24 / 7 / 365 with a time and date stamp, then analyses, sorts and archives them long term.
A report is sent within one week of the end of each month, showing the number of each type of movement (Takeoff, Touch and Go, Landing), types of aircraft (Plane, Helicopter etc), weights, runway in use, night / day airspace activity, day of week and other information, to the aerodrome for management and reporting purposes.

To reduce work and cost at the 'Lite' level of service, the voice calls are autonomously analysed by computer, rather than transcribed by human operators. The reports produced are detailed enough for non-Certificated aerodromes for the current (and known future) reporting requirements of CASA in Australia and CAA in NZ, so it provides an economical way of handling Risk Management, Aviation Authority, and Local Body Compliance reporting for those who do NOT need to bill individual landing fees.

In event of a noise complaint or incident, anyone authorised by the aerodrome managment can listen to the voice calls for any period from three years ago to the last few minutes. This can be done from any device that has Internet access and can play a .wav file (most can). This allows quick incident investigation without the need for an after hours visit to the airport.

--- Risk Management.
With evolving Health & Safety requirements, it is no longer enough to 'Leave it to the Aero Club'. A landowner is expected to pro-actively manage risk to be able to show that they are taking 'all practicable steps' to safeguard staff, pilots, maintenance staff, and the public.
If a situation arises that requires more detailed information, Aimm-Lite airports can upgrade to Aimm-Plus and have Aimm's Transcription Operators enter the movements to produce a fully detailed movement reports with every aircraft identified. This is usually requested for situations like:

--- Incidents.
At many airfields, a Flying School or Aero Club does a good job of the day-to-day management but, in the event of an incident the land owner does need to be able to show that they were aware of the changing patterns of Air Traffic usage and have been reviewing these to confirm that the facility is being appropriately managed.
If they do not have Airport Management expertise in-house, Aimm senior staff are available to discuss any points that raise concerns. This can take the form of a short discussion at no charge, or a full consultancy with written reports at reasonable industry rates. Aero Clubs / Local Aircraft Operators can provide AirCRAFT expertise but do not usually have AirPORT Management expertise.
If requested by the aerodrome (and only then), Aimm operators will send copies of the relevant radio calls directly to an Incident Investigation Authority and certify their accuracy and completeness.

--- Compliance / Planning Approval Information.
If the airfield / airport's operating consent has limits, the reports provide evidence of compliance. And

--- Noise Complaints.
Most airfields / airports occasional need to be able to show which aircraft did what, when and why. Often a complaint is generated by a Rescue aircraft flying in unusual places or altitudes, or an aircraft that is NOT associated with the airport, and resolving this quickly avoids escalation of the complaint. The Airport's own staff can listen to the radio calls from the archives for the specific period and resolve most problems themselves. Aimm operators can provide this report if the situation report needs to be from an independent third party. And

--- Search and Rescue.
To be able to quickly playback a group of radio calls to assist S&R, identifying what was said, by whom, and at exactly what time in an emergency.

--- Management.
Most aerodromes want an occasional 'snapshot' of movements for a past or current period. Typically when they are due to review bulk fees for local aircraft operators, so that they have definite facts on exactly who is doing what in order to make informed management decisions and negotiate from a position of knowledge.

The Aimm central server monitors the on-site unit remotely to ensure that the system remains operational.

2. Aimm-Plus:
--- This is a more powerful version that records both Voice radio calls and ADSB positions, to suit Airports that DO charge landing fees. It has all the functions above, plus it provides fully detailed reports every month showing the fine detail. It identifies for each movement: the time, date, the specific aircraft call sign or flight number, aircraft weight, type of aircraft, aircraft operator with full name and address, type of movement (Takeoff / Landing / TnG), and runway or helipad approach in use. These reports are designed to meet Billing / Consent / Planning Approval / Compliance obligations, Airport Management requirements, Funding applications, and provide detailed movement reports for grant applications, special projects, and Master Plans.

--- The on-site unit automatically enters the ADSB movements within a few seconds of the flights terminating. Voice data is encrypted and uploaded to Aimm's secure internet server each night, and either Aimm staff or Airport staff download the Voice Calls and transcribe to enter the movements. Where the Airport chooses to have its own staff do the transcriptions, a Transcription Utility program is proved that handles the work efficiently, and sends a timesheet detailing hours worked is sent to both the operator and the airport management each week. If the staffer falls behind then Aimm's operators automatically transcribe the oldest days to prevent a large backlog developing. When required to cover sickness / holidays, one of Aimm's transcription operators can usually take over the work on short notice.

--- Management reports are emailed within one week of the end of each month to any number of recipients showing graphs and collated summaries of activity.

--- Detailed reports in .CSV format (or in many Billing system's specific formats) are emailed within one week of the end of each month, with full details of each movement. This has the name and billing addresses of the aircraft operators, and the price for each movement according to the aerodrome's pricing rules, and is ready for import into the aerodrome's billing system for the aerodrome to bill landing fees, usually with no further data entry. A spreadsheet showing all movements, both revenue generating and no charge, can be requested at any time from the archives for further management analysis.

--- Cost efficiency. Most Airports (or if Council owned, the Council itself) already have efficient billing systems. By sending the invoices direct to that (rather than having the billing done by a third-party) there are substantial savings in the cost of collection of landing fees. Often Aimm can provide a better service at around half the cost of other systems by making use of modern computer analysis and especially by eliminating the costs of paying someone else to do the billing task that the Airport is already set up to do for itself. Aimm's invoice file is available in all the import formats in common use by Airport / Council billing systems.

--- Whether the transcription is done by an Aimm Operator, or the Aerodrome's own Transcription Operator, neither of them have to make pricing decisions... when they enter the aircraft registration, Aimm looks up the price set by the Aerodrome management for its type, weight, or a specified rate (which can be $0) for particular aircraft, and adds the details to the CSV file billing data.

--- ALL Voice radio call recordings and ADSB positions that have been received are available retrospectively, not just those that resulted in an airport movement. Airport staff can listen to radio calls for any period from three years ago to the last few minutes at the aerodrome, and view the ADSB positions. As Aimm is a Cloud based system, this can be done from any device that has Internet access and can play a 'wav' file (most can) for Voice or receive an email for the ADSB positions.


3. Aimm-Regional:
--- Provides all the services of Aimm-Plus (above), and is designed for Regional Airports and those with landing fees of more than $250,000 / year. Aimm-Regional uses dual recording units installed in different buildings on different power phases to provide full redundancy of movement capture. Either unit is able to provide the data, and the units are monitored daily to confirm that both are in 'operations normal'.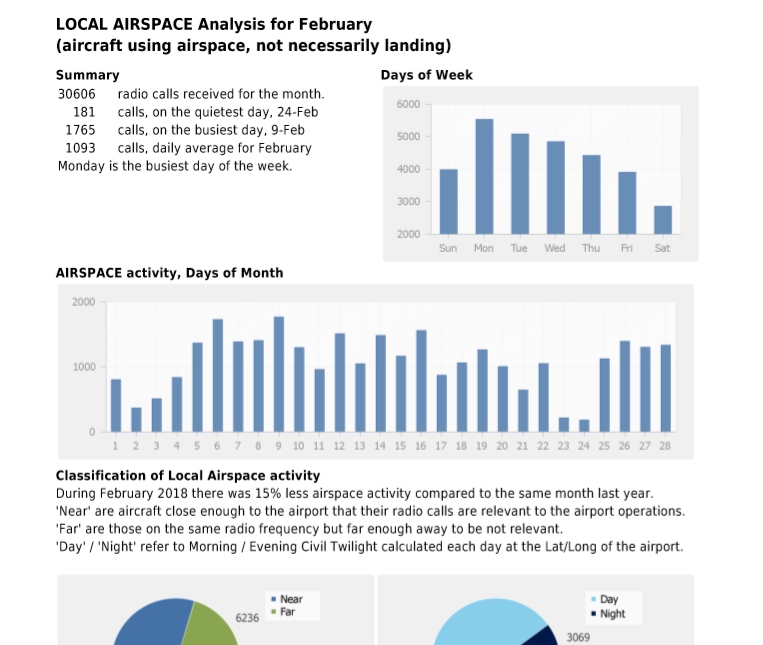 At many Aimm Client Airports, all members of the board or supervising committee
require this report sent to them before each monthly meeting. There are several
pages where the important detail summarised in a format that is useful for management.
What are the Costs and Benefits?
For all three systems including Aimm-Lite, the 'Dashboard' report condenses each month's activities into a concise view of the facts that Airport Management need to know... the 'who, what and when' of activity at the Airport. It is sent within a week of the end of each month to enable up-to-date and effective business decisions. In event of an incident, these reports provide written evidence that the Airfield / Airport land owner has been supervising the operations and has the information to take 'all practicable steps' to ensure the safety of the pilots, maintenance personnel and public. Even for those sites that choose to report only the ADSB data (thereby eliminating the time and cost of Voice call transcription), all Voice calls are still archived to be fetched in event of an enquiry... they are a 'Cockpit Voice recorder' for the airport.
For Aimm-Plus and Aimm-Regional, the 'Billing and Movement' report is also sent within a week, with fully priced and addressed invoices for direct import into the Airport's existing billing system, usually with no further data entry. By making use of the Airport's existing billing system rather than duplicating this itself, Aimm is considerably more cost efficient than older methods of collecting landing fees.
--- Fixed monthly cost: In most situations: (1) Aimm-Lite, (2) Aimm-Plus if the voice call transcription is done by the airport's own staff, (3) Aimm-Plus if used in (ADSB reporting & Voice Archiving) mode... there is a fixed monthly subscription which is the only cost.
--- If the airport prefers, the voice call transcriptions can be carried out by Aimm's Transcription Operators, charged according to the minutes of voice calls.
--- Extra services such as a mobile data link, or special reports / consultancy are charged on a time and cost basis.
--- Either Aimm's Transcription Operators, or Transcription Operators employed by the Airport, can download the filtered radio Voice calls from the Aimm Server onto any Windows computer, either at the airport or anywhere with Internet access, play them back and enter the movements.
--- Aimm does all the rest... Airspace Activity and Movement Reporting, Risk Management reminders, Regulatory Authority reports to remain in compliance, and in the case of Aimm-Plus and Aimm-Regional produce a CSV file of priced and addressed invoicing data for import into the Airport's existing billing system so the aircraft operators can be charged landing fees. Aimm has robust system monitoring, data collection and retention methods, however the service is provided solely on the understanding that no liability for loss of landing fees or any other losses arising from loss or corruption of data will be accepted by Aimm.
For more information contact us.
How is Aimm able to provide these services so cost-effectively?
The Aimm developers have a long history in Data Analytics (extracting the meaning from raw computer data) and analysis of patterns in data. With the power now available on 'Cloud' based and Distributed systems, Aimm has the computer itself do much of the work and thus considerably reduce the human input required. By making full use of the latest technology for automation, Aimm is usually able to provide a service to a higher standard and at around half the cost of alternative methods.
Major differences of Aimm from other Movement Monitoring Systems and Methods?
Aimm was deisgned from the start to be a full Movement Management system, which collects landing fees but also provides all the other movement-related information that an Airport manager requires... for compliance, complaints, regulatory obligations, Health-and-Safety, Risk Management, Funding applications. Collection of Landing Fees is obviously important, but it is not the only task an Airport Manager has to do, and Aimm provides a lot more. The cost of the service is gradually reducng as ADSB is used by more aircraft allowing more automation.


How to know if Aimm will meet my Airfield / Airport's needs?
Phone one of Aimm's senior management to discuss the challenges and opportities that your Airport faces, and how other Airports have used Aimm to handle these. In many cases other Airports have faced the something similar, so we can usually advise on the solution, and results that were achieved.
Aimm supplies self contained unit(s) on a maintained lease that is plugged into the power and internet at the airfield / airport. Your staff don't have to do anything else. The unit(s) monitor activity 24 / 7 / 365. Aimm staff will liase with IT and Accounting staff to sort out the 'nuts and bolts' of making it fit seamlessly into your existing systems. If a broadband landline is not available the system can use the mobile phone network for data transfer.
Aimm's Services to Airports
Aimm monitors ALL movements and captures better than 99% of Takeoffs, Landings, Touch-and-Goes at most Airports:
Airside Personnel Tracker
Airside Personnel Tracker
, Who is Airside? Where did they go? When?
Landing Fees
Landing Fees
, Cost Effective Billing of Fees
ADSB and Reports
ADSB, Reports, Statistics
and full Data for effective management and reporting
Regulatory
Regulatory Compliance
including CASA (Australia) and CAA (NZ) Part 139 Reporting
Risk Management
Risk Management
, Health and Safety, Incident Investigation
Complaint Resolution
Complaint Resolution
and Noise Management
Funding
Funding for Airports
, Revenue generation, Grant Applications, Airport Master Plans.
Consultancy
Advice, Consultancy
, and 'Virtual Manager' Service for Small to Medium Airports.
Acoustic Data
Acoustic Consultants' Data
... To assist Acoustic Engineers by providing the data they need.
Brief Details of Aimm
Brief details of Aimm
... How it works, What it costs.
Airport Manager Newsletters
Newsletters for Airport Managers
... Tips and discussions from other Airport Managers