Advice and Consultancy for Aerodrome Supervisors
Small and Medium Airports.
Many small to medium sized airfields are Council owned, with Officer-in-Charge (OiC) also having other properties to supervise. They don't always have an aviation background themselves, and this can make it hard to weight up all the factors that need to be taken into account for questions like:

-- Can we close the cross runway and free up the land for other uses? (Usually yes).

-- Where should a new hangar be sited? (Where it won't infringe Aviation Authority specified runway side clearances, or restrict future development)

-- The Equestian Club wants the airport closed during their event... is this a reasonable request? (Usually, No)

-- What Compliance and Risk Management obligations do I have? (Many, both general and aviation specific)

-- Can we outsource the management of the airfield? (Yes, see 'Virtual Airport Manager' below)

Aimm senior staff are experienced Airport Operators themselves, and have the benefit of seeing the results of many such decisions at Aimm Client Airports. They are happy to be phoned for advice, which can take the form of a five minute chat at no charge, or a full paid consultancy with written report. Often just having someone to 'bounce ideas off' is all it needs for the best course of action to become clear.



Large Airports
Aimm has some very large Airports using its system, and these are well served by organisations running large Consultancies for Airports, to advise on Development and Planning. Similarly for the specialised field of Acoustic Consultants. In these cases Aimm is usually engaged by the Consultant to provide the accurate data they need, and Aimm will then report to the consultant rather than the Airport.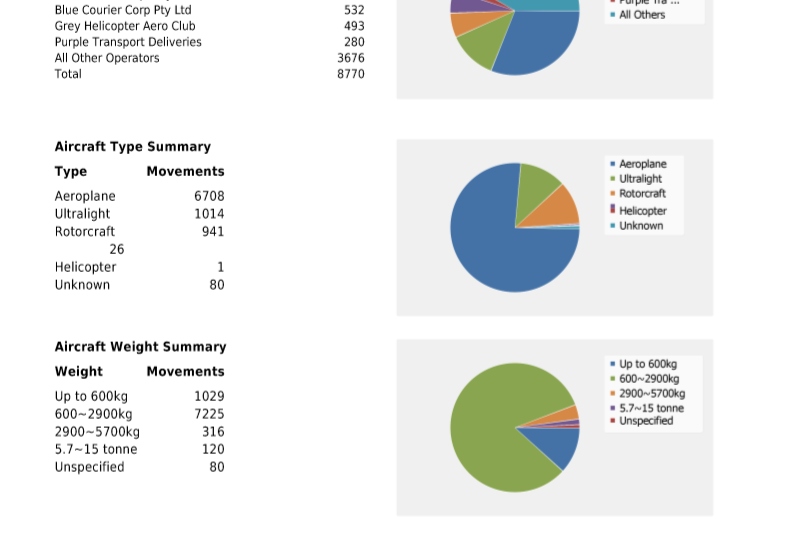 Consultants find Aimm's data useful in giving them the accurate facts on which to make recommendations
'Virtual Airport Manager' for Small Airfields and Airports.
- A Council Properties Officer will already be very familiar with arranging normal maintenance on a property, and reporting on whether targets have been met or not.
- An airfield will be a little more difficult when discussing the siteing of new hangars and visiting aircraft parking, as there are specific regulations for clearances.
- And, unless the supervising Council officer has a strong aviation background, they will find it quite difficult to:
- Issue Notams (Notices to Airmen),
- Make changes to the AIP (the Circuit and Aerodrome specifications),
- File 'Part 139' compliance data with the Aviation Authorites,
- Handle noise complaints with a full understanding of rights and obligations,
- Investigate Aviation Incidents and file the '005' incident forms,
- Ensure the aviation-specific Health and Safety obligations are met,
- Handle requests for airspace use from drone operators,
- Arrange (and chair?) the Safety Committee
These points must ALL be handled correctly for the airfield to meet the minimum required standards. If it does not, that can be problematic if an incident should occur. Aimm's Consultants are happy to advise on these points and train the Council Officer-in-Charge... but there is a strong learning curve and that training is lost when that Council Officer moves to a new position.
A cost effective solution is appointment of a 'Virtual Airport manager' to report to the Council Supervising Officer. By taking advantage of recent improvements in remote monitoring and cameras etc, it is possible to manage an Airfield remotely with occasional on-site visits as required. Aimm can put the supervisor in contact with existing Airfield Managers able to take on an additional Airfield with a 'Virtual Manager' role, and take care of all the above points... and with the benefit of their experience recommend any changes to better meet the Council's policy objectives.
In a similar way that many airports have remote Air Traffic Control to provide the benefits of a control tower at a fraction of the cost, this is a highly cost-effective way of managing the facility, and gives almost all the benefits of a experienced full time manager on-site, at a much lower cost. To be put in touch with a suitable manager and see if this would suit your situation,
Contact us
What are the major services that Aimm provides for Small to Medium Airports?
How to know if Aimm will meet an External Consultant, or Council's, needs?
Talk to the Aimm Senior Management. They have had contact with a wide variety of Airfield Supervisors, and Airport Consultants, and include Airport managers who are sucessfully meeting the policy objectives of Airport owners. They do understand the challenges and opportities. Aimm systems are available for short-term installation if needed to provide data for a specific decision that needs to be made.
To discuss further, Contact us
More information about Aimm functions
Airside Personnel Tracker
Airside Personnel Tracker
, Who is Airside? Where did they go? When?
Landing Fees
Landing Fees
, Cost Effective Billing of Fees
ADSB and Reports
ADSB, Reports, Statistics
and full Data for effective management and reporting
Regulatory
Regulatory Compliance
including CASA (Australia) and CAA (NZ) Part 139 Reporting
Risk Management
Risk Management
, Health and Safety, Incident Investigation
Complaint Resolution
Complaint Resolution
and Noise Management
Funding
Funding for Airports
, Revenue generation, Grant Applications, Airport Master Plans.
Consultancy
Advice, Consultancy
, and 'Virtual Manager' Service for Small to Medium Airports.
Acoustic Data
Acoustic Consultants' Data
... To assist Acoustic Engineers by providing the data they need.
Brief Details of Aimm
Brief details of Aimm
... How it works, What it costs.
Airport Manager Newsletters
Newsletters for Airport Managers
... Tips and discussions from other Airport Managers