Regulatory Reporting for Airports and Airfields - Compliance
What is Aimm's purpose?
Aimm is a system to provide remote Tracking and Reporting of Aircraft Movements at an Airport or Airfield. It will detect over 99% of movements 24 / 7 / 365, and generate the reports needed for an Aerodrome to remain in Compliance with their Local Government and controlling Aviation Authority.

Specific data is provided for Regulatory Reports to satisfy local body movement limits, and noise footprint consents.
In addition extra data (as shown below) is provided for Civil Aviation reporting at quarter year end so that
the Airport can remain compliant, and be able to prove this in event of an incident.
Aviation Authority Reporting:
At the required intervals, compliance reports are automatically emailed with the detail required by the Aviation Authority for each Aimm Client airport, to suit their Country and Certificated status.

As at January 2019...

AUSTRALIA: The Civil Aviation Safety Authority (CASA) Advisory Circular AC 139-09(0) requires Aerodromes to, "Ascertain current usage of the aerodrome: type and frequency of aircraft activities, maximum size of aircraft using the aerodrome, level of night operations

". There are related requirements in

AC139-16(1) 'Safety Management Systems For Aerodromes

'. Aimm-Plus and Aimm-Regional provide all this this information. Aimm-Lite provides all except the day/night split. Aerodromes are required to have this information available but currently not required to routinely submit to CASA. There is an active NPRM in force and if the requirments change Aimm's reports will be modified to suit.

Compliance report example for an Australian Non-Certificated Airport: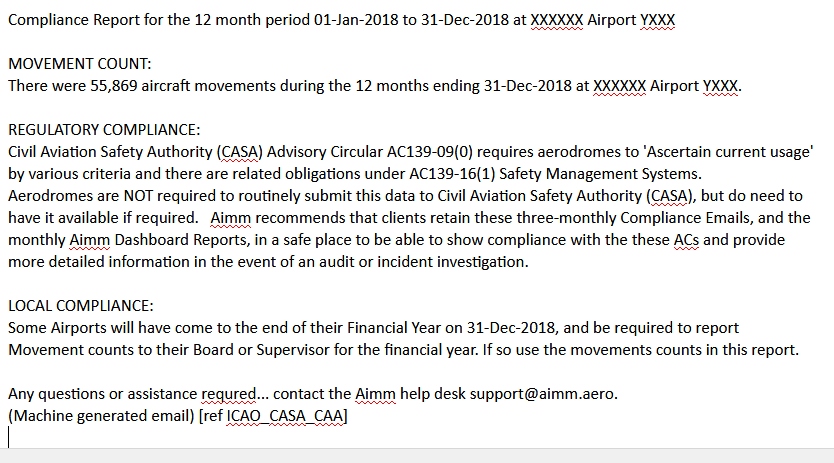 NEW ZEALAND: The Civil Aviation Authority (CAA) requires all aerodromes to submit regular movement reports to CAA:
-- Certificated Aerodromes: CAA rule 139.76 and 139.411 require Certificated aerodromes to submit monthly movement data at the end of each quarter year. Aimm prepares this data for each of its Certificated Client Airports, broken down as specified, and sends details within seven days of the end of each quarter with links and directions for filling in form 24139 / 05 and submitting electronically.
-- Non-Certficated Aerodromes: CAA rule 139.505 applies to Non-Certificated aerodromes which are required to submit form 24139 / 06 annually. At the required time Aimm collates the appropriate data for these client aerodromes, with instructions on downloading form 24139 / 06 and submitting it electronically.
Example for Certificated NZ Airport: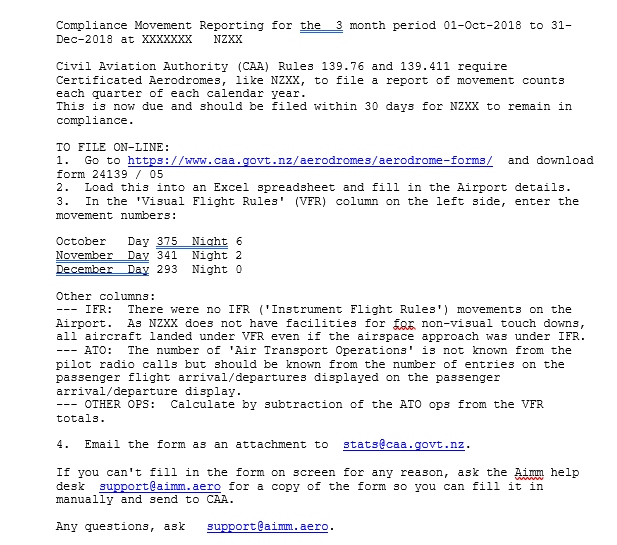 Aimm's Regulatory Reports and reminders make it quick and easy to fulfil the regulatory requirements so that the Aerodrome can remain in compliance.
How about Financial Year Reporting to the Board, Supervisors?
The Airport Manager automatically gets monthly reports within a week of each month ending, and any required figures can be sent from that. Also many Airports and Airfields have a specific requirement to report the movement counts for the whole Financial Year to the their Board/Supervisor. As different Airports have different financial years, within a week after the end of each quarter year, Aimm will automatically extract the movement numbers for the previous 12 months, so that these can be forwarded to the Board/Supervisor as required.
How does it achieve this?
With automated equipment at the Airport to remotely identify all aircraft movements. At the required intervals, compliance reports are automatically emailed with the detail required by the Aviation Authority for each Aimm Client airport...
Regulatory Costs and Benefits?
Regulatory Reporting is a necessity, but only required occasionally so the Airport Manager has to remember to do it... when... where... and how which is not easy as it is not done often enough for the method to come to mind. Aimm solves this by automatically emailing the report with the method and the steps for submitting the data required, which makes it easy to ensure that the Aerodrome has remained in Compliance... especially important if an audit or incident investigation should occur.
If the Airport has noise footprint limits, Aimm's 'Acoustic LDN' reporting provides the numbers for an Acoustic Consultant to do their work efficiently.
It is also important to have reports showing the total number of movements (Takeoffs and Touch-and-Go as well as Landings), in case movement limits are imposed or tightened in future. It is common for Airports that install Aimm to find that their previous method missed more than 50% of the movements, and a falsely low number will be a major problem if it is accepted as correct and used to limit future growth.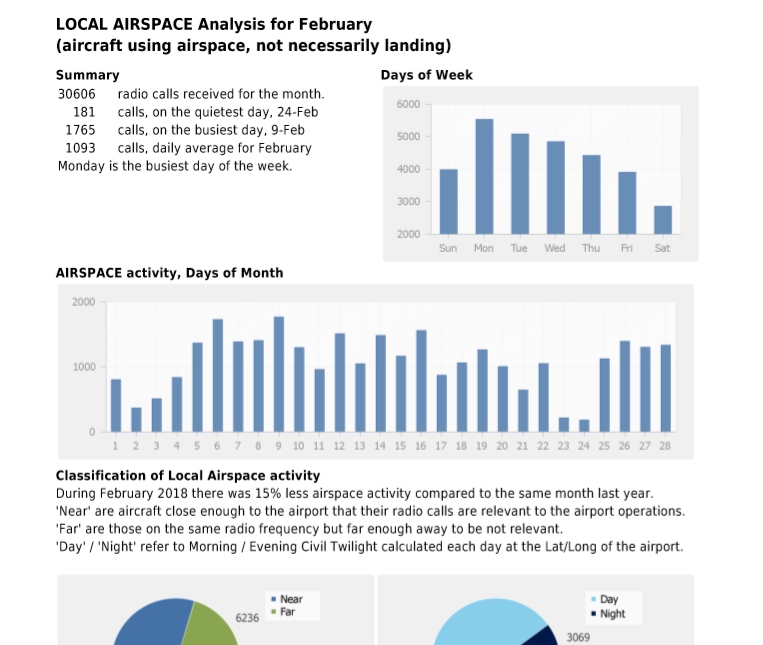 If the Airport's consents have daily or monthly limits, and these are challenged, this 'Airspace'
report can be compared to the 'Movement' counts to show how much of the activity around the airport did,
or did not, involve a landing at the airport itself. Members of the Public often assume that all
aircraft flying near the airport are engaged in a takeoff or landing AT the airport, which is not
not always the case.
How cost-effective is Aimm?
Very. With a background in Data Analytics (extracting the meaning from raw computer data) and analysis of patterns in data, and as operators of their own Airport, the Aimm Developers wanted a highly automated system that took care of the paperwork efficiently, and as much as possible, automatically. They made full use of the computing power now available in the Cloud, to get the computer itself to do much of the work and minimise the human input.

Usually Aimm can provide better Regulatory and Management Reporting Data at around half the cost of other systems... and handle the Landing Fee Billing at the same time.
Will Aimm meet the needs of my Airfield / Airport?
Let Aimm know you would like to make your Airport's processes more efficient, and discuss what services you need. If this shows that Aimm could improve on the method you are currently using, try it and see... Aimm does not require a committment or set length contract, and any Client can discontinue the system anytime without penalty. We get very few who do not continue and Aimm's developers are quite happy to stand behind the performance of their system.
To discuss further, and get a quote for you Airport, Contact us
More information about Aimm
Airside Personnel Tracker
Airside Personnel Tracker
, Who is Airside? Where did they go? When?
Landing Fees
Landing Fees
, Cost Effective Billing of Fees
ADSB and Reports
ADSB, Reports, Statistics
and full Data for effective management and reporting
Regulatory
Regulatory Compliance
including CASA (Australia) and CAA (NZ) Part 139 Reporting
Risk Management
Risk Management
, Health and Safety, Incident Investigation
Complaint Resolution
Complaint Resolution
and Noise Management
Funding
Funding for Airports
, Revenue generation, Grant Applications, Airport Master Plans.
Consultancy
Advice, Consultancy
, and 'Virtual Manager' Service for Small to Medium Airports.
Acoustic Data
Acoustic Consultants' Data
... To assist Acoustic Engineers by providing the data they need.
Brief Details of Aimm
Brief details of Aimm
... How it works, What it costs.
Airport Manager Newsletters
Newsletters for Airport Managers
... Tips and discussions from other Airport Managers