Landing Fee Billing for Airports and Airfields
What is 'Aimm'?
A complete Movement Tracking and Reporting system that remotely captures better than 99% of all movements 24 / 7 / 365, and automatically produces a monthly invoice file for import directly into an Airport's existing billing system for Landing Fee Billing.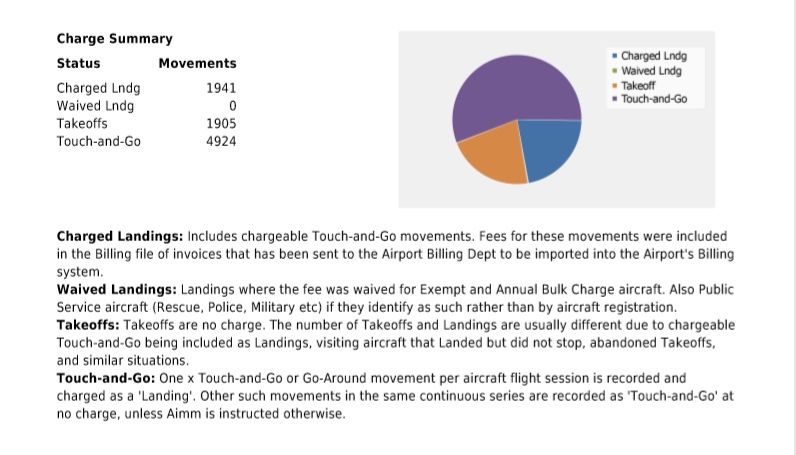 Summaries of Landing Fee charged, waived, or Touch-and-Go. This graph alerts management
if the mix of activites changes, so they can consider whether the fee structure is still appropriate.
In this case more than half the movements are no-charge Touch-and-Go. It helps to be aware of
this when reviewing fees for those landings that are charged.
How does it Bill Landing Fees?
A file of Landing Fee invoices in .CSV format is emailed to the Airport, usually within seven days of month end, with full details of each movement. This has the current details from the latest CASA Aircraft Register in Australia, and the CAA Register in New Zealand. Each movement is priced according to the aerodrome's pricing rules. Most Airports and Airfields already have an efficient billing system available, and substantial savings in Landing Fee Collection costs are gained by making use of that rather than paying a third-party to duplicate the billing function.
Aimm identifies for every movement: the time, date, aircraft registration, flight number, aircraft weight, type of aircraft, aircraft operator with full name and address, type of movement (Takeoff / Landing / Touch-and-Go), and runway or helipad approach in use.
Can it Bill Aircraft Parking Fees, Fuel purchases and other Ground Costs?
Yes. In addition to the Landing Fees, any charge incurred by an aircraft can be entered directly into the Aimm website as soon as it occurs. E.g. An airport / airfield staff member can use a computer (or a mobile device like a tablet or smart phone) to remotely enter a parking fee as soon as they see that a visiting aircraft has parked overnight, when they sell it fuel, or at the time they provide other airport services. There is no need for the charge to be written down for an office worker to enter it into the billing system later, though this can be done if preferred. Full details of the charge will be imported into the airport's billing system with the monthly import of landing fees. The reports show 'hours on ground' and 'days on ground' before each takeoff, and this helps to identify aircraft that could have incurred parking charges.
Aimm supplies a self contained unit on a maintained lease that is plugged into the power at the airfield / airport. Your staff don't have to do anything else. The unit automatically monitors activity 24 / 7 / 365.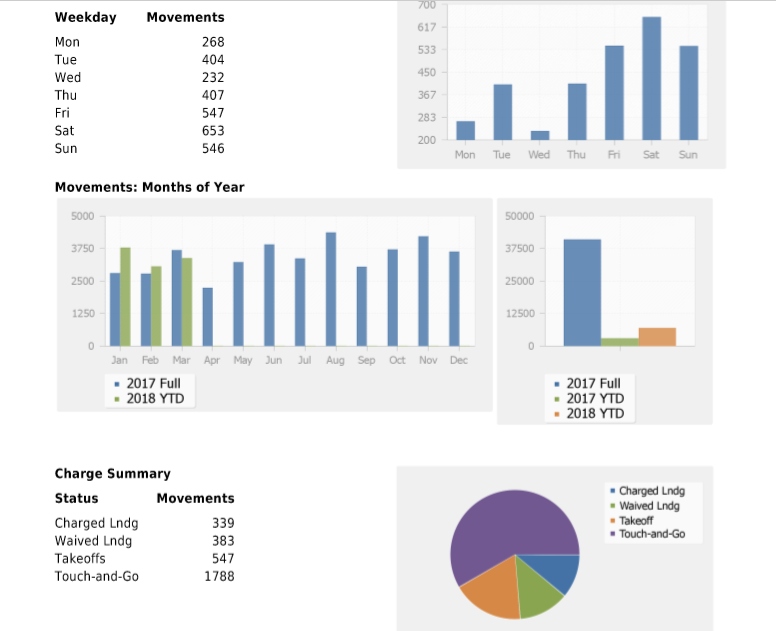 Part of the Dashboard for a (different from above) Airport. Distribution of movements by
day-of-week, and day-of-month, can be helpful to management when arranging maintenance, runway
closures, and reviewing landing fees for various types of operations on the Airport.
The 'waived' landings can be compared to the amount collected for annual bulk fees when
reviewing those.
Is Aimm Cost Effective?
Yes. With Cloud computing, substantial reductions in the cost of Landing Fee collection are available by making use of your Airport / Council's existing billing and payment receipt system, rather than duplicating this function. Aimm staff will liase with IT and Accounting staff to sort out the 'nuts and bolts' of making it seamlessly pass electronic invoices to your existing billing system, and the invoice file is available in all the import formats in common use by Airport billing systems. .
Movements by ADSB equipped aircraft are automatically entered by Aimm, within a few seconds of the aircraft shutting down at the gate. The remaining non-adsb aircraft are entered by having their radio calls transcribed by the Airport's own staff, or Aimm's Operators on their behalf. When they enter the aircraft registration, Aimm looks up the price set by the Airport for its type, weight, or a specified rate (which can be $0) for particular aircraft, or for the whole of an aircraft operators's fleet with automatic detection of aircraft bought and sold, and adds the details to the monthly CSV invoice file.
Usually
Aimm
can provide a better service at around half the cost of other systems by making use of automated computer analysis, ADSB, and especially by eliminating the costs of paying someone else to do the Aircraft Landing Fee Collection that the Airport is already set up to do for itself.
Aimm's many advantages over older methods of Fee Monitoring, are summarised in the
Brief Details.
How to know if Aimm will meet my Airfield / Airport's needs?
Discuss with Aimm staff the challenges and opportities that your Airport faces. If Aimm provides better service than the method you are currently using to collect fees from aircraft, try it and see... Aimm does not require a committment or set length contract, and any Client can discontinue the system anytime without penalty. We get very few who do not continue and are happy to stand behind the performance of our system.
To discuss further, and get a quote for you Airport, Contact us
Other services that Aimm provides...
Airside Personnel Tracker
Airside Personnel Tracker
, Who is Airside? Where did they go? When?
Landing Fees
Landing Fees
, Cost Effective Billing of Fees
ADSB and Reports
ADSB, Reports, Statistics
and full Data for effective management and reporting
Regulatory
Regulatory Compliance
including CASA (Australia) and CAA (NZ) Part 139 Reporting
Risk Management
Risk Management
, Health and Safety, Incident Investigation
Complaint Resolution
Complaint Resolution
and Noise Management
Funding
Funding for Airports
, Revenue generation, Grant Applications, Airport Master Plans.
Consultancy
Advice, Consultancy
, and 'Virtual Manager' Service for Small to Medium Airports.
Acoustic Data
Acoustic Consultants' Data
... To assist Acoustic Engineers by providing the data they need.
Brief Details of Aimm
Brief details of Aimm
... How it works, What it costs.
Airport Manager Newsletters
Newsletters for Airport Managers
... Tips and discussions from other Airport Managers